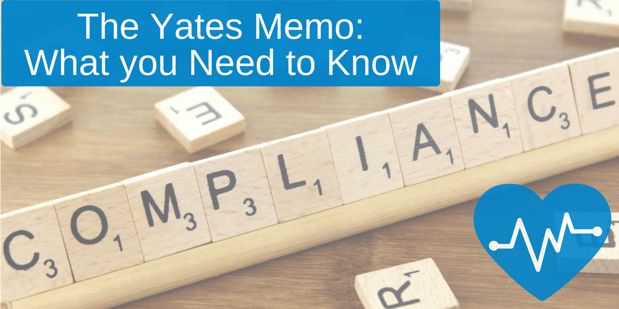 In September, 2015, the Department of Justice (DOJ) published the Yates Memo, a document outlining the accountability of individuals for corporate wrongdoing. This means that any individuals responsible (whether knowingly or unknowingly) for the wrongdoing are now being involved in the case where all facts of the alleged crime must be disclosed to the DOJ. Hospital executives fall into this area of accountability and since the release of the Yates Memo we are now seeing the punishment of individuals.
The right software could've prevented these 15 technical violations -
Here are the six critical components of the Yates Memo and our interpretation of the way they affect hospitals, executives and physicians for corporate wrongdoing:
"In order to qualify for any cooperation credit, corporation must provide to the Department all relevant facts relating to the individuals responsible for the misconduct"

Individuals are no longer protected under the corporate umbrella. The corporation is now required to identify individual employees and all facts related to their fraudulent activity. Individuals are being held personally responsible and may incur fines and/or criminal punishment separate from the corporation.

"Criminal and civil corporate investigations should focus on individuals from inception of the investigation"

Hospitals at the corporate level used to assume all risk and settle all civil requirements. Now, since the Yates Memo was published, the law takes the role of any individuals that participated in the wrongdoing into consideration.

"Criminal and civil attorneys handling corporate investigations should be in routine communication with one another"

The link between those prosecuting the criminal and the civil cases are encouraged to communicate. The Yates Memo expects that attorneys continue to keep lines of communication open during their cases.

"Absent extraordinary circumstances or approved departmental policy. The Department will not release culpable individuals from civil or criminal liability when resolving a matter with a corporation"

In the past, the DOJ may have worked in conjunction with the corporation to exempt individuals from the settlement or criminal punishment. Since the memo was published, individuals cannot be exempt from punishment due to wrongdoing.
If your team isn't using the right software, you could end up like this -
"Department attorneys should not resolve matters with a corporation without a clear plan to resolve related individual case, and should memorialize any declinations as to individuals in such cases"

Essentially, the idea is that a corporation is now on an equal playing field with the individuals who participated in the wrongdoing in any way. Whether it be one person within the health system or an in-depth plan carried out by 20 individuals, they will receive a punishment before the statue of limitations expires.

"Civil attorneys should consistently focus on individuals as well as the company and evaluate whether to bring suit against an individual based on considerations beyond that individual's ability to pay"

We are just beginning to see this play out in the legal system. Individuals are now on notice that they will not be able to continue to work and remain unscathed when fraud occurs in which they have culpability.
A recent example is Tuomey Healthcare System. After a long drawn out case related to Tuomey allegedly entering into contracts with specialists and required them to send all their patients to Tuomey, the case was settled in October of 2015 and Tuomey paid 72.4 million. Then in September of 2016, Ralph J. Cox III, the former CEO of Tuomey Healthcare System, personally reached a settlement and agreed to pay 1 million for his involvement. Furthermore, Cox is excluded from participating in federal healthcare programs for four years. This means he cannot work at a hospital that takes Medicare and Medicaid for four years from his sentencing. This is just the beginning for personal accountability cases, as we suspect to see more play out in the years to come. To avoid a costly settlement of your own, you must take the necessary action to remain compliant.