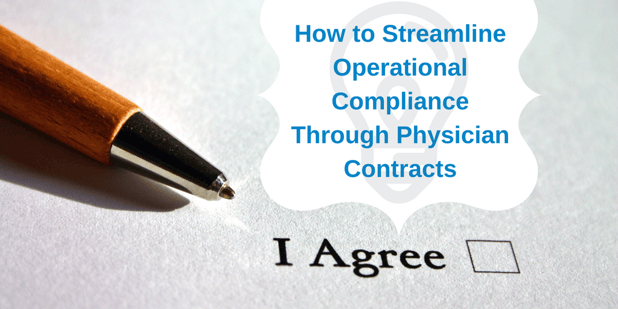 Health care organizations pay physicians for a variety of duties that are not patient care based, but are more administrative or perhaps task based activities that are for the benefit of the company, not necessarily the physician. These activities are not defined as productive time, meaning the physician cannot bill insurance companies or a patient for this time. It is work being performed on behalf of another organization, not a patient. Over time, health care organizations such as hospitals, device companies, large physician groups, pharmaceutical companies have had to pay physicians a fair hourly rate for all the hours asked of physicians.
It is also a highly regulated area – with Stark Law impacting health care organizations that deliver care and the Sunshine Law applying to device and pharmaceutical companies. The short regulatory story is the contract needs to be set up correctly to protect both parties and needs to be carried out exactly as written.
Here are 4 tips to streamline operational compliance:
Use Templates. Legal departments frequently setup a template that can be used to add all ne

w physician contracts.

It is important to at all times remain within the structure of the law. Templates are the best way to ensure all I's are dotted and T's are crossed. For example, the template will have all the needed elements to have a legal contract – appropriate term, payment terms clearly spelled out, non-compete language if needed, etc.
Did you know that self-disclosure settlements have hit as high as $10M due to technical violations? Discover more jaw dropping statistics here.
Execute fair market value studies at start of the contract and then at regular intervals. In the setup of the physician contract, it is important to have commercial reasonableness. This means, a physician is needed to do the work, not any other kind of worker. Their unique specialty-driven skills are needed to perform that pre-market FDA drug trial research. It cannot be done by another skilled worker.
Collect documentation on all work performed. This documentation is key in defending any payment, proof that the physician worked the hours as defined. In the past, attendance at a product forum may have sufficed, but today, the physician must certify they performed those hours as written. They must attest that they did this work. It is important to have the certification that the work was performed in addition to the documentation.
Pay physician as stated in contract. It sounds pretty basic, but following the rules setup in the contract is increasingly difficult. If there is a monthly maximum, then honor it. If there is an annual maximum, track it. If the contract says to pay the physician within 15 days of receiving their time, then do it. If the contract says the physician must submit their time within 30 days of the close of the period or they won't be paid, then follow it. If an employed physician must do 2- 24 hour call shifts as part of their contract, but then will be paid for shifts, 3-6 and not after 7, then follow that. If the physician can do only 5 product reviews for a device company in any given year, then follow it.
The best way today to monitor operational compliance is to use automation to document, process and pay physicians for time worked.
---
"1 hour of sifting through paper physician time logs and their associated payments will reveal at least one technical violation." Discover more shocking statistics like this one: