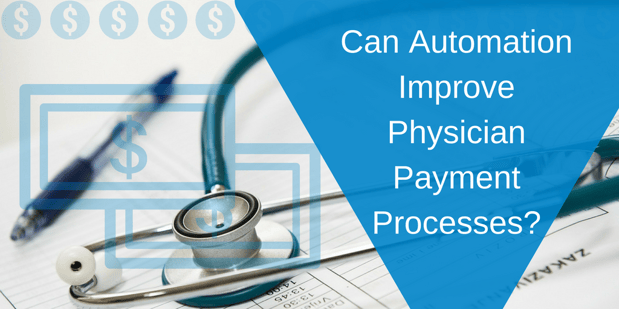 Hospital finance and accounts payable teams have a tremendous amount of pressure and responsibility placed on their physician payment processes. They have to follow accounting procedures, operational and financial hospital workflows, and keep track of what they do for perpetual audits.
Hospital accounts payable teams track an inordinate amount of paper with manual processes. With all of these manual processes, including manual data entry, routing of invoices incorrectly, lack of transparency to track an error or "rework", and lost data or "missing invoices", there is an extremely high risk for error.
Curious what your hospital is risking with outdated manual processes? -
Throw on top of all that the messiness of paying a physician for his or her administrative time. Many hospitals align strategically with their physicians via a physician contract that could involve physician call shifts, co-management agreements, and medical directorships. Many hospitals execute payments for these contracts and their physician partners' administrative time via handwritten check requests.
Hospitals have learned to automate most of their process for efficiency and better patient care. In the land of physician contracting for their administrative time, it's still largely driven by paper and manual physician payment processes. Change is hard for everyone and especially for the detail driven departments.
At Ludi, our company has analyzed over 7,500 physician administrative contracts on a national level that include the spectrum from small rural facilities to large tertiary academic centers. As the Ludi team works with their client hospitals to automate their physician administrative payment processes, we have seen several trends that further impede and complicate accounts payable activities with these types of contracts.
Time and time again, hospitals further complicate their process through many layers of approval. Automation provides complete transparency at any time that historically was shrouded in piles of paper time logs. This allows the ability for accounts payroll staff and its leaders to answer a physician's questions about the status of their check at any time and create trust and partnership with responsiveness.
The creating of a partnership between a physician and a hospital takes months, possibly years, but it only takes about ten minutes to irritate and distress everyone involved when a check is late, lost, or not trackable.