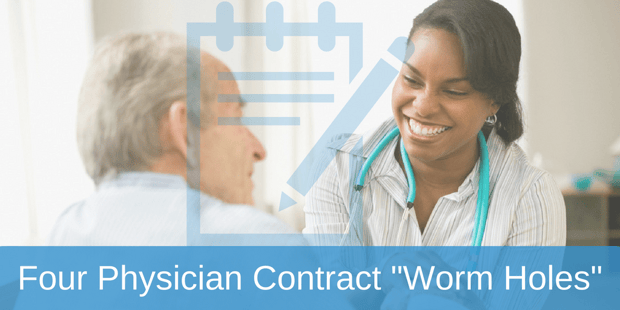 At Ludi, our sole focus is physician administrative contracts. These are the legal vehicles that contain a variety of administrative services that physicians provide to hospitals that are not clinical. These services include medical directorships, on-call, co-management agreements, and physician committee work to name a few. We work with various sizes of health systems and have noticed several patterns, regardless of size, that all hospital administrative teams fall into when automating their manual processes that currently support their payment processes and executive of their physician contracts.
Don't be another victim to a physician contracting pitfall -
The first major "worm hole", by and large, is that hospitals are unaware how many contracts they have. Ludi has an implementation team and we receive files upon files of physician contracts that need to be automated. The pattern we see is that our team receives the first download and then the hunt is on for the next batch as the hospital teams starts to communicate across their departments trying to track down and collect any unknown or lost physician arrangements.
Why does this occur even with a contract management system with the purpose to file and warehouse these critical contracts? Physician contracts exist in silos as physician contracting genesis occurs all over the place in a hospital organization. The genesis can be done by relationship, medical group, facility, campus, or by strategy. Different versions of the contract occur with amendments that have been updated. Contracts are expired, however still in play. Finding the contracts, cataloging them by type or arrangement is huge lift for any organization to get their arms around and accomplish.
The second issue is no one person or department owns this process within the health system. Is it legal? Compliance? Medical staff? The finance team? Physician administrative payments process cut horizontally and vertically across all those departments, which frequently leads to lack of dedicated leadership or focus on this one issue. This creates more silos within which organizations work to find the contracts. Our clients have expressed physician contracting is a "hot potato" among these departments to address due to the complexity of the management.
Put the right contracting strategies in place before it's too late -
Another worm hole is the math that lies within the contracts – the hourly pay for physicians for administrative time. Contracts are constructed by attorneys and administrative leaders to support physician strategic alignment. Those are fancy words that represent economic terms that can get complicated by regulatory issues such as fair market value. Because our hospital clients have not seen their paper "math" automated, they haven't recognized the stipend or hourly rate doesn't match up with monthly payments being made. Ludi handles 24 different payment algorithms to manage the complication of the payment mechanisms embedded within the contract.
Lastly, duties are a necessary and required legal component of any physician administrative contract. They describe the activity that the physician must document for payment, meet regulatory standards that document their time and what was accomplished. Many times with hospitals and their physician contracts, there are no duties attached to the contract for a number of reasons, but building out agreements in a template that always include duties for the physician to be paid for is key.
---
This is a short blog about very complex processes that are encountered within health systems and their physician administrative contracts. At Ludi, this is all we do. We have deep niche knowledge about how these hidden issues derail finance, physician relationships, and compliance issues. There are so many challenges within a health care system that don't have easy to locate answers. Automation of your physician administrative contracts isn't one of them.