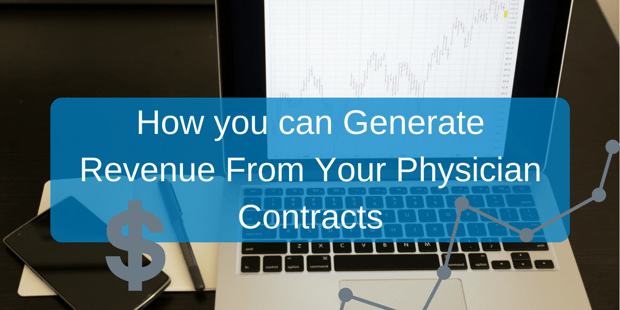 A wise person once told me there are only 2 levers in business. You can do one of two things to succeed profitably. You can increase your revenue or decrease your expenses. It's really that simple. To improve profitability you must either increase your revenue or decrease your expenses. I've personally been part of organizations that were growing as well as those that were not growing, even shrinking in revenue. Let's start with growth though.
Growth
Growth brings the need for more service, employees, product, and just more of everything really. When growth is not present the only option to maintain the needed level of profitability is to cut expenses. Whatever the term used, downsizing, rightsizing, cutting costs, decreasing expenses, it becomes a negative spiral. You cannot cut your way to prosperity. Eventually you hit a point when you can no longer cut anything out, you must grow to survive.
So, the question at hand, can you generate revenue from your physician contracts? You betcha! If you are not growing from your physician contracts, then they're the wrong contracts or you're aligned with the wrong physicians. So, the first thing to review is at a very high strategic level, ask is our physician alignment strategy working? An honest review of the relationships and the growth of the organization needs to be evaluated. Health care organizations do not align just for the sake of aligning. Alignment occurs to build great programs, services, clinics to serve patients, outreach to new markets, partnerships for new care models...etc. The first step is to really measure your progress on the overall program goals.
Discover how Physician Alignment Strategy Can Impact CMS Reimbursement here.
Appropriate Billing
There is another tactic that should not be overlooked on the revenue side related to reimbursement. If I told you, you could grow your revenue without treating more patients, without more volume without herculean efforts to move the market. Would you believe me? The key is to make sure you are getting paid for what you do. Appropriately. Hospitals have known this for some time related to billing. Systems have been improved to better collect the patient portion at the site of care for example, to improve reimbursement. Coding has become a science, to ensure proper bills going out.
Physician Contracts
In regards to physician contracts, can they grow revenue? The answer is yes, in two ways.
Teaching Programs:

Medicare allows for reimbursement of these expenses the hospital incurs. So properly submitting this expense on the cost report is key for graduate medical education.

Medicare Wage Index:

Secondly, for all hospitals, physician contracts for administrative time, on-call, leadership activities, committee work can also be submitted as part of the Medicare Wage Index. Depending on your market and what size organization you are in the market, the dollars can be significant. Best practice is to collect time logs for all time worked and dollars paid for ease of compiling on the cost report.
Don't leave money on the table! Grow your revenue by getting paid appropriately for your effort.
---
Check out our tool to help you analyze the revenue possibilities by switching to a better physician contract management system.