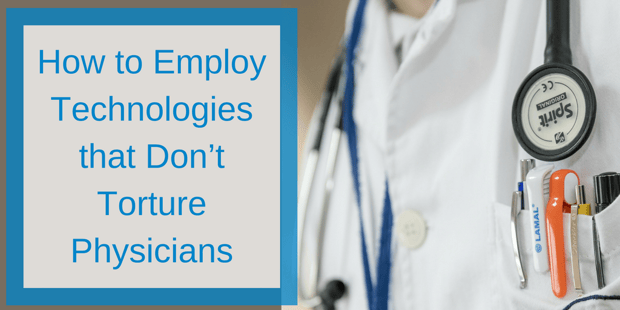 Physicians have not traditionally entered the workplace to lead or run businesses; they want to care for people, heal their communities, and make a good living. With all the complications in healthcare, regulations, how to care for patients and remain profitable, physicians are being tapped daily for "extracurricular" management work.
Physician Burnout
Physicians are being beat down with declining compensation they take home on an annual basis, grumpy patients armed with Internet knowledge, and daily-required documentation due to federal and state regulations. Add to that, all the new technologies that are employed today that haven't eliminated physician's workload and created more tension and frustration.
Today's physicians are put their paces with EMR launch, Epocrates, Pepid, UPTODATE, and Doximity to name a few that are on the physician's portal or their phones. According to FMGLeading.com research published in 2017, 25 to 65 percent of physicians are "over it" and burnout is a major issue. There are not enough physicians to go around. Recruiting physicians is a battle for many, and graduating physicians are unwilling to put in hours that reflect no ability to have a personal life. How does a hospital further leverage this priority partner who is also exhausted and annoyed?
Are you losing sleep over your physician contracts? If so, you don't have to be. Check out our blog that offers your hospital solutions so you can finally get some shut eye.
The Solution
Technology design has to be a "no brainer"; meaning it's intuitive and the physician needs little to no training to interact with your application design. What does this mean? There needs to be a payoff for the physician. Their life is directly impacted swiftly in a positive manner which in Ludi world means they get paid easily and more swiftly for their co-management, on-call, or medical directorship agreement they have with their partner hospital system. Put as much behind "single sign-on" as possible. Design the application around what actually happens at the transactional hospital level and make the application directly reflect the work flow.
At Ludi, we are a hospital management team that created a physician application as a "no brainer" to help physicians and hospitals adjudicate their alignment strategies and partnership. Literally, on the physician interface that sits on their phones, there are a whopping four buttons. That's it. Training is not even necessary for Ludi's solution as it is intuitive for the physician and follows an intuitive work flow. Due to our intuitive design, intense "man to man" client service and company mantra of not to torture physician partners, Ludi has not lost a client during our five years of existence.
---
After reading our blog on How to Employ Technologies that Don't Torture Physicians, are you interested in learning more about DocTime Log? If so, please feel free to reach out to us! We would love to set up a time to show you the many benefits that Ludi can offer your hospital.