Medical directorships are necessary for the effective management of patient care. However, medical directorship payments can cause headaches for hospital administrators.
Duties are most often outlined in the agreements, however because they are so complex, they become impossible to manage over time. Many agreements include duties that are paid at different rates depending on holiday, weekend or weekday hours. Some duties can be paid quarterly, while others are paid monthly. One agreement with a series of payment amounts and payment timeframes can be detrimental to making accurate payments.
In order to determine Stark and Anti-Kickback Statute compliance, first assess the commercial reasonableness of the position. Commercial reasonableness is just as important as fair market value when documenting contracts for compliance since many recent settlements for Stark and Anti-Kickback violations stem from failure to meet commercial reasonableness standards or from lack of documentation of an agreement's commercial reasonableness.
Before creating a directorship, clearly outline the business and clinical needs for the position. Then, look at the other directorships in the same or similar specialities. In some specialties, it is common to have more than one director, but in other specialties, it is far less common as demonstrated below with MD Ranger data.

After commercial reasonableness is determined, check if the physician being considered for the position is already in contract for another position. If the physician already holds a similar role proceed with caution. Check that the new position's duties are not covered by an existing contract. Either of these scenarios is called stacking which violates Stark Law and the Anti-Kickback Statute.
Some positions are paid more often than others for medical directorships and leadership roles.
For example, MD Ranger's benchmarks show that 78% of subscribers pay for the Chief of Staff positions. Typically, the medical staff elects officers to represent its physicians. Historically, positions were funded by medical staff dues, however, a growing number of hospitals are paying, or splitting the cost of stipends with the medical staff--an acknowledgement of the time commitment required. Such payments are subject to the same FMV requirements as other physician contracts, yet few benchmarks are available to document market rates.
The most frequently paid administrative positions are shown below: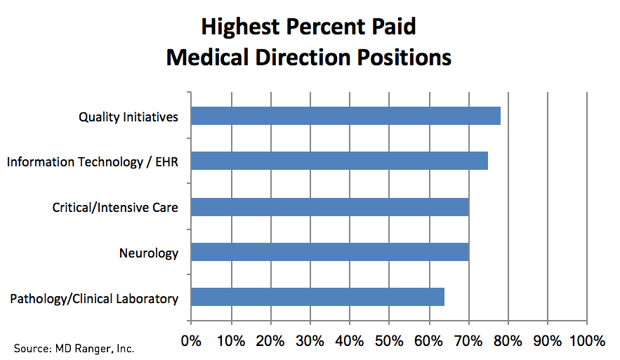 Just because a service is more likely to get paid doesn't mean that it necessarily has the highest payments. Often the services with the highest annual payments are those which necessitate more hours of service, not because they have significantly higher hourly rates.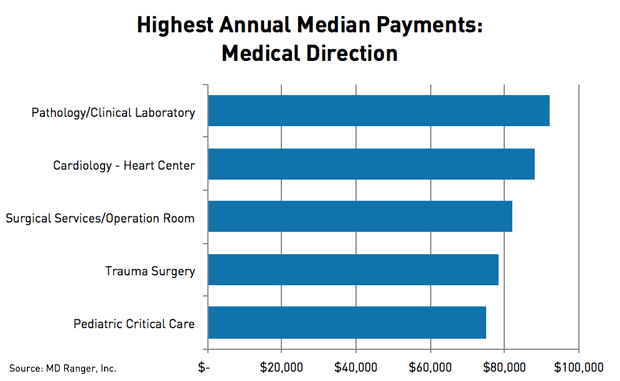 Setting payment rates for physician administrative positions can be complicated. Avoid costly compliance mistakes by having diligent routines to check all medical directorships and administrative agreements.
---
Julia Ogburn is the Senior Marketing Manager at MD Ranger. MD Ranger's innovative data reports set a new standard for physician compensation benchmarks. For more information similar to this, check out their blog here.