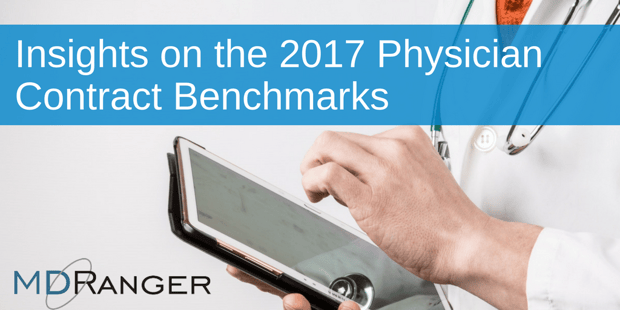 Two weeks ago, our friends at MD Ranger announced publication of 275 physician compensation benchmarks for call coverage, medical direction, administrative services, leadership services, hospital-based services, clinical professional rates, telemedicine, and diagnostic testing rates. MD Ranger is used in over 325 facilities across the US, including large non-for-profit health systems, urban trauma centers, and rural critical access facilities. MD Ranger helps healthcare organizations determine physician contract rates and document fair market value through its web-based platform. Ludi has partnered with MD Ranger for a number of years as our expertise and products work well together. Today, we wanted to share insights from MD Ranger's 2017 reports with you.
Over the last several years, rates for physician contract payments have been creeping upward. On average, call coverage payments are up 5% in 2017 and medical directorships are up 13%. A number of call coverage services saw large increases in the percentage of MD Ranger subscribers paying for the service. In 2016, 53% of MD Ranger hospitals paid for othopedia call coverage. This year, that number shot up to 83%. Ophthalmology coverage grew from 27% to 52% of subscribers paying for the service. Pediatrics and Cardiology/STEMI both had 19 percentage point jumps from 27% to 46% and 24% to 43%, respectively.
Over the past five years, the median annual payment for all surgical specialty medical directorships has declined. In 2012, the median annual payment was $82,700, this year, it was $61,050. The decline could be the result of more small hospitals beginning to pay for directorships that previously were only paid at large programs. Median annual payments for medical specialists declined only slightly in the same time period, from $55,000 in 2012 to $54,000 in 2017.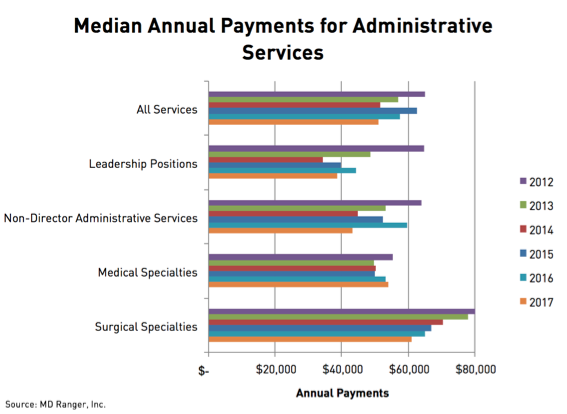 The bifurcation of hospital vs. office-based medicine continues to be reflected in hospital-based specialty growth. In 2012, MD Ranger reported benchmarks for 10 hospital-based specialties; this year, MD Ranger reported 20, including psychiatric hospitalists and OB laborist programs.
The industry is focusing more and more on pay-for-performance which has been reflected in the skyrocketing number of hospital-based agreements that include incentive payments, growing from 28% in 2016 to 39% in 2017.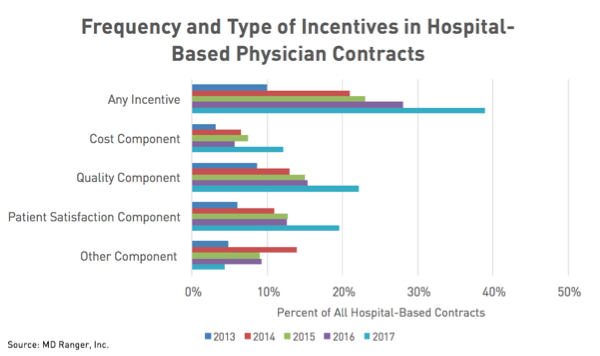 Given uncertainty around evolving reimbursement models and physician incomes, hospitals and healthcare organizations continue to spend more money paying physicians for non-clinical duties like taking emergency call, serving as medical directors, or taking on administrative roles. MD Ranger CEO Penny Stroud states, "Despite the growth in hospital-sponsored physician employment, hospital expenditures for call coverage, leadership positions, medical directorships, hospitalists and committee/meeting attendance continue to grow in scope and amount."
From our perspective at Ludi, the proliferation of these types of physician arrangements is important to note. As your organization's financial relationships with physicians grow, it becomes even more imperative to gain control over all aspects and processes related to these complex arrangements. Powerful and strategic tools such as DocTime Log® and MD Ranger's yearly benchmarks will help your organization forge stronger relationships with its physicians and provide benefits beyond maneuvering the complex compliance landscape.
For inquiries specific to MD Ranger's 2017 benchmarks, please reach out to Allison - apullins@mdranger.com.
---
---