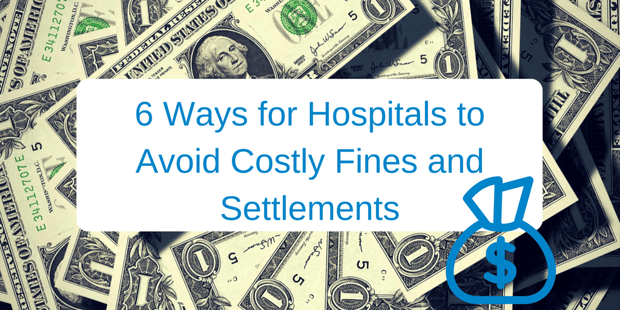 Today hospitals still face many regulatory and compliance risks. However, we aren't out of luck quite yet, because there are several ways hospitals can reduce these types risks. Here, we highlight six ways to avoid costly fines and settlements specifically related to physician compensation practices.
1) Create the physician agreement with all the appropriate safe harbors – The first step is a must along with a no-brainer. It's important when creating your hospitals physician agreement you use contract templates and lawyers and certainly do a Fair Market Value study on the compensation.
2) Collect physician time logs for payment – Many organizations think that because a physician is employed, they don't need the time log for administrative duties. However, the best defense is to keep track all the time. Another incentive of keeping track of time is that it might turn into savings if you later dial down the percent of time in the contract. Specify the frequency that physicians are expected to submit their time logs, i.e., monthly and within a specified deadline after the billing cycle ends. Don't pay outside the deadline! It's a risk and it continues bad behavior of late time log submissions.
3) Audit payments approval process– Specify who approves the time the physician submits and train those individuals in compliance. They should understand Stark law and Anti-kickback Statute to truly understand their duties. As a hospital, you should conduct internal audits and discuss any potential problems, before they become one.
4) Help physicians stay compliant – Doctors want/need to stay compliant with their agreement, so make it easy for them to give you the needed documentation. No one wants to sit down at the end of the month with a blank piece of paper. Consider an automated solution that respects the physician's time.
5) Consolidate all physician payments into one place – By tracking administrative time for employed and independent physicians, you have a broader picture where your spend is going. It's all part of the hospital's investment.
6) Consider automation – Having easy access to historical payments data is critical to not only managing future contract negotiations, but also for establishing compliance with FMV or even for internal or external audits. Monitor and analyze the data from an automated solution to save the organization money and to stay compliant.
Physician spend software can help you optimize your physician administrative agreements and support your many efforts to minimize financial and compliance risks for your organization.
---
There's an overwhelming amount of data in the most recent U.S. Cost Report. For your convenience, we broke it down to highlight three insights that reveal the opportunity for hospitals to capture additional revenue. Be sure to check it out here!