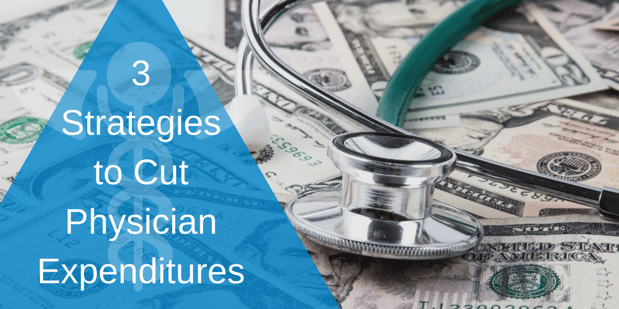 Hospitals pay a plethora of physicians in a variety of ways. Some are employed. Some manage the clinical components of service lines in tandem with hospital leadership in co-management arrangements. Some are service line leaders. Some provide on-call coverage for the hospital. Some teach residents or interns at the hospital.
All relationships described are memorialized with complex contracts that clearly outline the services the physician should provide and how the hospital is to pay that physician. Often, we see these agreements set to auto renew on a yearly basis, yet they are rarely reviewed prior to auto renewal which can lead to having agreements that either no longer work well for your organization or for the physician. Here are three strategies we suggest to cut physician expenditures.
1.) Decrease the number of contracts and/or the number of hours paid
This sounds basic, but many of these agreements are put in place and then are not rigorously reviewed over time. Because they are in silos throughout the organization, it is an exercise to identify how many agreements there are and where they are within the company. Perhaps in 2008 you needed a Medical Director for Cardiology, one for Interventional Cardiology, one for the Cardiac Catheterization Lab and one for Cardiac Rehabilitation. Is there any overlap? Have the reasons for needing this much medical directorship changed? Do you still need all these functions in 2017? Shaving off 3-5% can be surprisingly easy when you have the data to make the decisions.
Don't pay the price of a mismanaged physician contract -
2.) Review the work that is being performed in light of the expense
We review employees' work regularly, but it is surprising how many organizations don't regularly review the work performed by their physician partners. What is the expense and what are the results? Have you moved the needle on the clinical agenda and/or the original reason you entered into the contract? Each anniversary of the contract represents a perfect moment to look in the past, discuss the work, the outcomes and the expectations for the upcoming year. Have these conversations with the physicians and review the work and the expectation once a year at a minimum. If you are not getting the results, stop making these investments. Hold the physicians accountable.
3.) Streamline the processing of paying physicians
In most organizations, the process of actually paying the physician for work performed is largely manual. The physician documents on paper hours worked. The hours are reviewed by as many as 5 hospital staff, check requests are prepared, paperwork is passed through interoffice mail. Too many people are touching the review process and things may still be getting paid incorrectly. Assess your organization's process by flow charting the process. If more than 3 people are signing these payments, streamline the process. Automation is no longer an option for organizations, invest in software that will ensure the payments are correct.